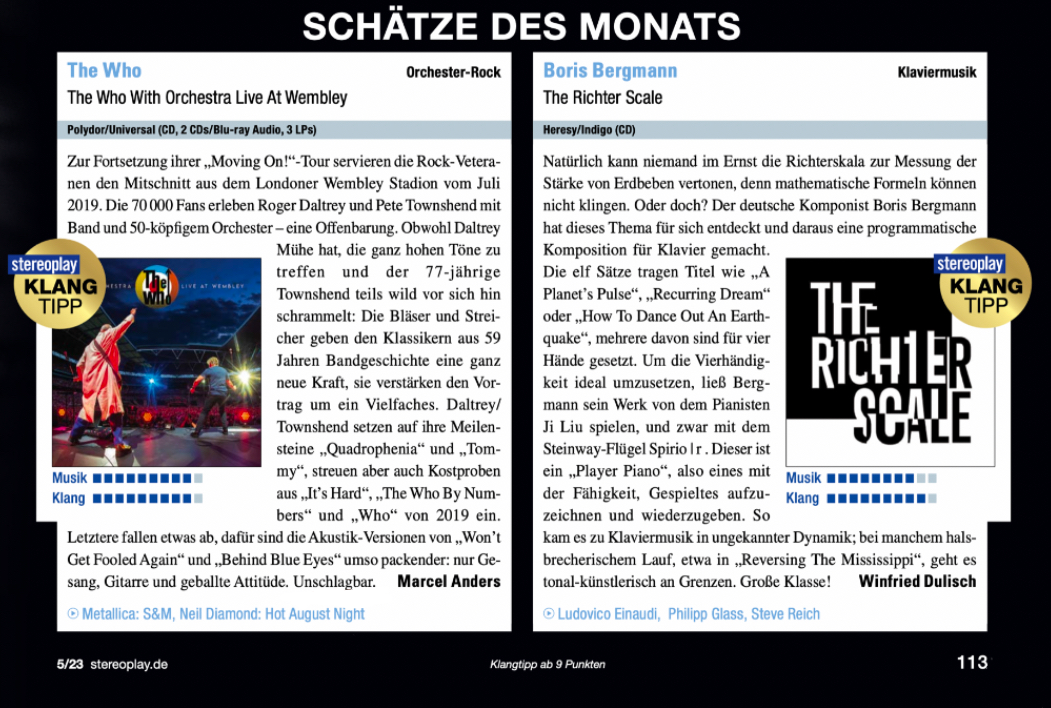 "Of course, no one can seriously set the Richter scale for measuring the strength of earthquakes to music, because mathematical formulae cannot sound. Or can they? The German composer Boris Bergmann has discovered this theme for himself and made a programmatic composition for piano out of it. The eleven movements have titles like "A Planet's Pulse", "Recurring Dream" or "How to Dance Out An Earthquake", several of which are set for four hands. In order to ideally realise the four-handedness, Bergmann had his work played by the pianist Ji Liu, using the Steinway grand piano Spirio/r. This is a player piano, i.e. one with the ability to record and reproduce what is played. This resulted in piano music with unprecedented dynamics; in some breakneck runs, for example in Reversing the Mississippi, it goes to the limits in terms of tonal artistry. Great class!"
The Richter Scale is a new piano composition by German composer Boris Bergmann. The hour-long work was created for Steinway's Spirio | r, respected as the world's finest high resolution player piano and receives a stupendous performance on this premiere CD by the Steinway Artist Ji Liu. The Richter Scale is a programmatic composition in 11 movements inspired by Charles F. Richter's scale for measuring the magnitude of earthquakes.
Available on CD at international record stores and online shops and digitally via all major DSPs including Amazon, Apple Music, Spotify, Deezer, etc.
1️⃣Prelude
2️⃣A Planet's Pulse
3️⃣Richter the Poet
4️⃣Seismograph
5️⃣Recurring Dream
6️⃣Expecting the Big One
7️⃣Dance of the Things
8️⃣How to dance out an Earthquake
9️⃣Reversing the Mississippi
🔟Voyager Golden Record
1️⃣1️⃣Epilogue – To the Beloved Ones